King & Willstrop Strike Commonwealth Games Gold
apr 9th, 2018 | By
Squashkrant.nl
| Category:
Squash in the world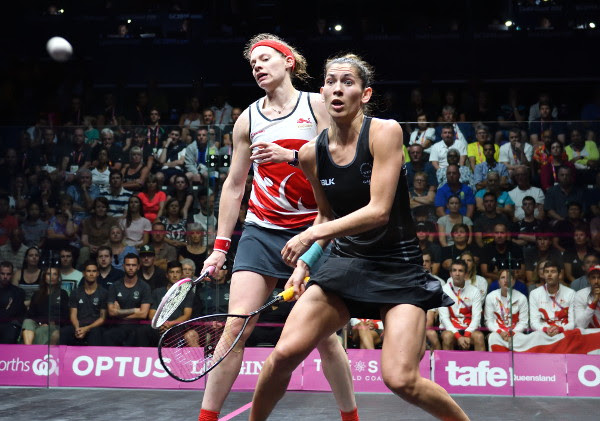 England and New Zealand shared the glory on Singles finals day at the 2018 Commonwealth Games Squash when Kiwi Joelle King struck gold in the women's event and it was third time lucky for two times runner-up James Willstrop in the men's climax at Oxenford Studios in Gold Coast, Australia.
King, a gold medallist in the Women's Doubles in 2010, became New Zealand's first ever Singles gold medallist when she beat England's Sarah-Jane Perry (both pictured in action below). It was always clear that the match would be a close-fought affair – and so it was.
Fourth seed Perry had two games balls in the first, but it was King who closed out her fourth game ball to win the opener 16-14. The New Zealander opened up a two-game lead – but Perry drew level to force a decider.
From eight-all in the fifth, King moved ahead to clinch the match 16-14, 11-8, 6-11, 11-13, 11-8 after 78 minutes take gold.
On winning her country's first gold, King acknowledged: "Yes, it feels pretty good. We've had some great names that have come through the squash community from New Zealand and no-one's managed to do it yet – so it's a privilege, to be honest, to be the first one to do it and I'm just looking forward to celebrating with my team-mates.
"Yes, I'm back on court tomorrow – 11am, I've heard – so there's no rest for the wicked really. You've just got to go back, recover and be ready to go again. Doubles is a completely different format. I think I'll be a bit rusty in my first round!"
Whilst seeded two, King became the event's highest-ranked player after moving up to four in the world on the eve of the start of the event. "To be honest I didn't pay much attention to that," said the 29-year-old. "Obviously I was excited and happy that my ranking had moved but I didn't really look any further than the fact there were probably about 12 players in this draw that could realistically win the tournament – so I just took it match by match.
"Today was typical final squash – a big occasion and both players wanting to give it everything they have. All I can say is she played really well – she just did not go away, she didn't let me have it all my own way, that's for sure."
England gained revenge in the two nations' battle in the men's final when Willstrop, the fourth seed, prevailed in straight games over in-form Kiwi Paul Coll, the number two seed ranked nine in the world.
Both players had had arduous routes to the final – Willstrop denying home interest in the later stages by beating top Australian Cameron Pilley in 95-minute quarter-final battle and Coll surviving a 106-minute semi-final clash with Welsh outsider Joel Makin less than 24 hours before the final.
Willstrop (seen above celebrating his success) was in imperious form, claiming his first 3/0 win since the opening round by beating Coll 11-9, 11-4, 11-6 in 47 minutes.
"It just clicked for me today," admitted the 34-year-old from Harrogate. "It's stuff you dream of. It's one of the most brilliant performances I've had in my career. It just worked and it clicked – that's happened today. I don't know why, maybe the hours of solo practice I've put in on my own on court, in Harrogate and Ponte, all my life.
"It's an incredible thing – and to make it happen on a big day like today – it's one of the best performances. Whatever happened today, it's an achievement.
"I love playing the game – and four years ago there were some doubts about that – and to think I'm now here with a gold medal in the singles … I can't really process it to be honest.
"And if you'd talked to me on Friday when I played Campbell (Grayson), I didn't feel that great about myself, it was a real fight …. and three days later it's all different."
Is it his biggest title? "I guess as a title, I reckon it probably is the best. It's a wonderful occasion – and the atmosphere and everything around it adds to it."
The Bronze medal matches were just as dramatic and emotionally-charged. The women's clash saw Malaysian superstar Nicol David, the long-time world number one and gold medallist in 2010 and 2014, take on fast-rising Welsh star Tesni Evans.
Undaunted by a 4/0 career head-to-head record in the 34-year-old Malaysian's favour, sixth seed Evans (pictured above at the medal ceremony with King and Perry) delivered a scintillating performance to see off David, the No.3 seed, 11-7, 3-11, 12-10, 11-7.
"It's truly amazing – unbelievable really – I'm absolutely over the moon," exclaimed the Welsh wizard. "I've had a great week and to beat someone like Nicol for the bronze medal is just out of this world. If you'd asked me 10 years ago, 5 years ago, I never would have thought I would beat her. She's an absolute legend. That's the first time I've ever beaten her so that's extra special as well.
"I've gone from the bottom of the scale to the top of the scale, literally. I was really down yesterday after my semi-final match – but thank you to Dave (Evans) and my team, they really picked me up last night. They made me just realise where I am and that I still had a medal to fight for.
"I can't do too much celebrating tonight as I've got a doubles match tomorrow. At this minute I don't know but, don't worry, I'll definitely be celebrating."
The first Games medal for Wales for 20 years was greeted with delight by national coach David Evans. "It's an amazing result for Tesni and Welsh squash as a whole, getting a medal in the Commonwealth Games," said the former British Open champion. "The last one was in 1998 with Alex Gough, so to get a medal is unbelievable.
"But more, to beat Nicol – who we've all got so much respect for, with what she's achieved. For Tes to beat Nicol to get a bronze just adds a little bit extra to it."
On the impact this will have for Welsh squash, Evans added: "I'm only a mere coach, but funding-wise this should help. What Tesni's done in getting a Commonwealth Games medal is pretty special – we're a very proud country, we all fight for each other. Hopefully it will put squash back up there again."
Defending champion David was composed about the result: "I gave what I could today – someone has to come out a winner. I just couldn't quite put some things together. It's tough out there but I'm really proud of the years of representing Malaysia.
"Maybe it's pushing it a little bit to make another Commonwealth Games. If I play it would only be for the singles – and that would definitely be a tough task."
Malaysia took bronze in the men's play-off where 12th seed Nafiizwan Adnan (pictured below, right, with Willstop & Coll) beat Welshman Joel Makin, the No.11 seed, 11-7, 6-11, 9-11, 11-4, 11-5 in 81 minutes.
When asked how big the win was, Adnan replied: "It was the biggest ever match I've ever played – it was enormous. I can't believe it, I was so nervous just now.
"Today I'm the first male player in Malaysia to win a medal – I am very proud, not just for myself but for my team. Everyone's behind me – my coach and the support team. Every day we prepare – so I want to give to them."
2018 Commonwealth Games images courtesy of Toni Van der Kreek
Men's Final:
[4] James Willstrop (ENG) bt [2] Paul Coll (NZL) 11-9, 11-4, 11-6 (47m)
Bronze medal play-off:
[12] Nafiizwan Adnan (MAS) bt [11] Joel Makin (WAL) 11-7, 6-11, 9-11, 11-4, 11-5 (81m)
Women's Final:
[2] Joelle King (NZL) bt [4] Sarah-Jane Perry (ENG) 16-14, 11-8, 6-11, 11-13, 11-8 (78m)
Bronze medal play-off:
[6] Tesni Evans (WAL) bt [3] Nicol David (MAS) 11-7, 3-11, 12-10, 11-7 (40m)
Read more here:: World Squash